At the Finish Strong event in Ft. Lauderdale, FL, Mike Ferry spoke with three of his top coaching clients, Jim Bim, Dan Mumm and Mike Darda, who have over 80 years of combined experience. The discussion was revealing and inspiring. Here are a few highlights:
Jim has over 40 years in the business, lists 200+ homes a year and sells 98% of his listings. Jim has been an ArchAgent client since 2019 and uses the Expired, FSBO, Neighborhood and For Rent by Owner services.  Jim's sons, Grant and Weston, are part of his team and sell another 40+ listings per year – generating 400K in income which, as Mike says, is not bad for twenty-year-old somethings.
Jim has two assistants but no buyer agents. Jim says his biggest challenge is to select the correct sources to prospect. His purpose comes from setting the example for his two kids. Everyday he follows his routine. Jim works a 90-day cycle, lives on 30 days of production and goes on a 10-day vacation every quarter.
Mike: What's your daily routine?
Jim: I have a 15,000 square foot home and the basement is our offices. I start every morning with a prospecting session. I am always hunting for new listings.
Mike: Who are you calling?
Jim: I focus on five sources. I start with Expireds, then FSBOs and Pre-foreclosures, Just listed/Just solds, and Evictions. I don't call my COI as much. I'm always hunting for new listings.
 Mike: How much money do you spend on marketing and branding?
Jim: Zero unless you want to count the $30,000 in yard signs per year.
Mike: What is your biggest challenge in convincing a seller to list with you?
Jim: Price. I focus on convincing the seller it's about price. I'm not attached to the listing. I'm not afraid to walk away.
Dan has eight years in the business and lists 120+ homes a year. Dan has been an ArchAgent client since 2022 and is utilizing all services. Dan has two full-time assistants and one buyer agent who closes an additional 35 listings per year. Dan's expenses run about 20%. Dan's biggest challenge is to sell the listings he takes.
Mike: What's your daily routine?
Dan: I prospect four hours in the morning, every workday. After my prospecting session I do lead follow-up. My afternoon is listing appointments. I try to go on two a day. I set the times for either 1 or 3, which is when my energy is highest.
Mike: Do sellers always willing to meet at 1 or 3?
Dan: If you lead them to a meeting at 1 or 3, then almost always, yes. I don't work with buyers. My schedule is the same every day. I focus on lead generation for new listings. Once I have the listing my staff handles the seller.
Mike: I hear you're quite the home chef.
Dan: Yes, I enjoy it, the creativity. It's important for me to be home at 5pm. I hold myself accountable for my work hours and the same for my personal hours.
Mike: What are your top five listing sources?
Dan: Expireds, For Rent By Owner, For Sale By Owner, Neighborhoods, and online traffic. I call my database about every 90 days, especially if they have given me a deal. I will keep it fresh, let them know what's happening now with interest rates. I ask questions, see if they need to setup a Trust and give them a good lawyer referral.
Mike has sold real estate for 35 years and individually sells 125+ listings per year. His team sells over 317 listings (son Andrew sells 80+ by himself). Mike has 12 agents that work for him. Mike works in production four days a week and one day a week on leadership. Since 2021, Mike uses Arch to skip trace his online web traffic and for FSBOs. Mike spends an hour a day on lead generation. Mike's biggest business challenge is to maintain his personal performance while growing his team. Mike is focused on training agents to perform proper lead gen and how to negotiate a price reduction. One of his goals is to make his business worth buying for Andrew.
Mike Ferry: Who are you prospecting to?
Mike Darda: Expireds, FSBOs, Just Listed, Just Sold, and Geo. I work on my database heavily. I've done over 5,600 transactions and have over 3,000 people in my Center of Influence (COI). I call ten a day. We also generate a lot of online traffic.
Mike Ferry: Do you use ISAs?
Mike Darda: I use in-house licensed agents that I personally train.
Mike Ferry: What goes through your head when you are on a listing appointment?
Mike Darda: Be the person they need me to be to get the listing.
Mike Ferry: Do you use AI?
Mike Darda: We use it for email content, but not for marketing purposes.
Mike Ferry: Do you spend money marketing?
Mike Darda: We do spend money on branding but not much. We send a video update every month; it gets a high open rate.
---
Many agents stop prospecting in November/December off as home sales slow. But Top Producers know this is an opportunity to obtain new listings as competition wanes. Commit to the processes of your business and Finish Strong in '23. ArchAgent provides a host of sales side leads, to be the best become an ArchAgent.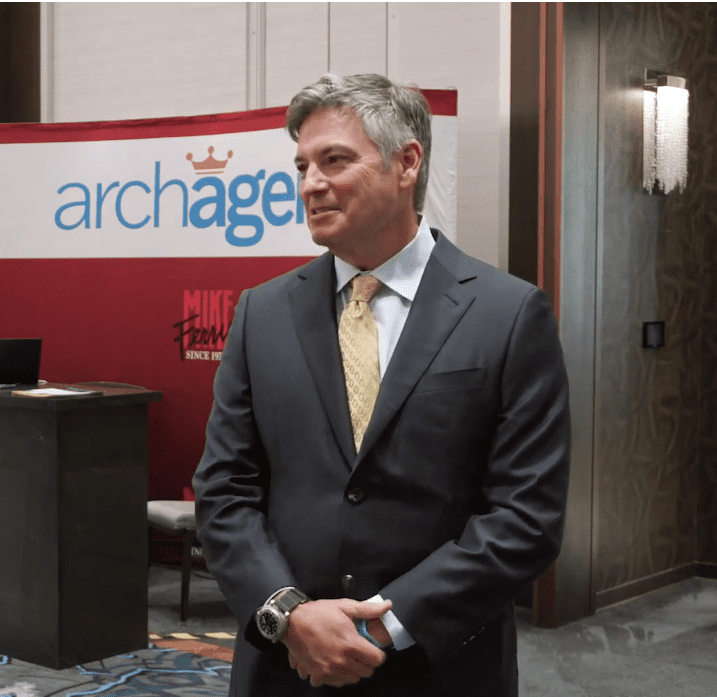 Steve Cortez is a seasoned real estate professional with decades of experience and owner of ArchAgent. ArchAgent brings together the tools and resources the country's top real estate agents rely on in a single package for a low cost.